New Season at the Human Library Reading Garden
The Human Library Reading Garden is gearing up for another tremendous season of courageous conversations in Copenhagen. We are all set to reopen for loans again at the end of April, and the great news is that this season we will be open to our public readers every Sunday, and yes, it is still free to use the services of the Human Library.
More than 500 Loans
In the previous season, we registered over 560 loans to readers during the Sunday sessions. This confirms the increasing level of interest, support and love from our Readers. People from all over the world visited us to borrow and read some of our open Books, and we are delighted to be able to provide even more opportunities for Books and Readers this season. The conversations about our diversity are more important than ever.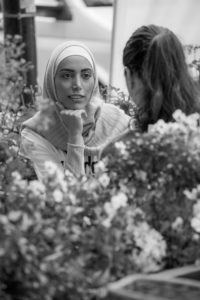 Open Every Sunday
Our team of Books and Librarians look forward to welcoming our readers every Sunday. The many visitors last year confirmed to us that we need to be providing even more opportunities for Readers to engage with our Books. The Reading Garden in Copenhagen has seen an ever-increasing influx of visitors since our grand opening in 2020 (*link to article).
"We are excited to be able to offer more learning spaces to the people of Copenhagen and visitors to the city and expect a steady traffic of courageous Readers this season", says Ronni Abergel, founder of the Human Library and creator of the Reading Garden"
A Unique Learning Experience
The Human Library Reading Garden offers a free and unique learning experience for Readers to engage in dialogue on topics that often carry a great stigma and with people who have a relevant lived experience and who volunteered to answer questions about their life and background.
The new season in the Human Library Reading Garden will launch Sunday, April 23rd, and you can find a link to the event here. Readers are welcome from noon to 4 PM, and as always, the services of the Human Library are free to our Readers.