Moved and maybe even a change of heart?
I had tears in my eyes at times during my first publication as an open book in the Human Library. I was part of a book collection that featured around 70 different topics, all represented by brave people committed to challenging stigma and stereotypes by way of their example.
Strength in our diversity
A book with his readers in Nyborg.It was 70 very different people that slowly filled up the space in the "book depot", a room serving as our backstage. People were everywhere, some sitting down to have a coffee some stepped outside on the terrace in the sun, many laughing and hugging each other.
There was a woman hard of hearing, a man in a wheelchair, a blind woman with her dog, a girl wearing a niqab, another with a headscarf, cancer patients, HIV positive along with someone to talk about obesity. Some of them have been sexually abused. Many have a history with mental health issues: borderline, schizophrenia, social phobias, ADHD, OCD. A tall, slender man in very colorful, fluttering robes and seriously tall stilettos unfolds his huge fan out with a slap and generously divides the airflow to those next to him. Others sit a bit by themselves and I am one of them.
I am overwhelmed and very nervous. It's my first day as an actual book in the Human Library. This library has people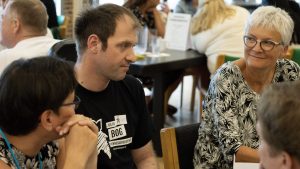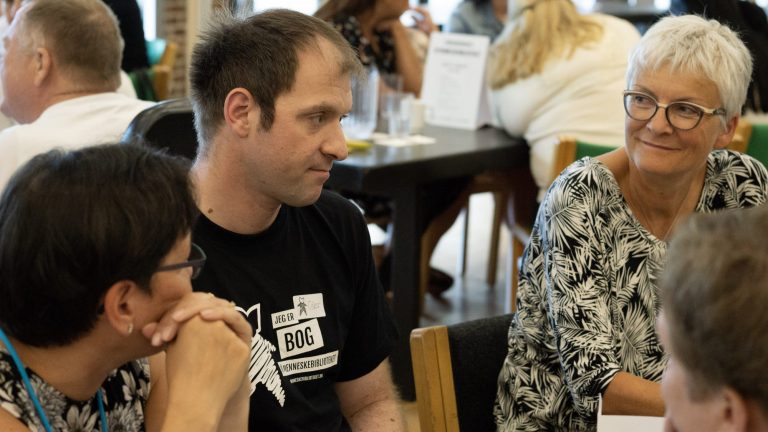 on its bookshelf, people that volunteered to be an open book on a challenging and often stigmatised topic. When the books share their personal experiences in open conversation with their readers, something very powerful happens. As if our defenses are abandoned and instead, curiosity is invited to occupy the space.
My title is "Journalist" and I have little confidence as we get close to deadline in my personal edition. I have to talk about myself and I expect to answer a lot of questions. Usually I am the one to ask all the questions. Today, the roles are changed. And it is a huge event – the largest Human Library ever. More than 400 readers, assembled at a conference organized through the Labour Union HK and all of them work as assistants in Dental Clinic in the public sector in Denmark. They are waiting for us.
Meeting readers at table 16
Questions and the answers flew across the tables.Nadja Thomsen, a librarian from the Human Library, stands up on a chair so all can see and hear her explain how it the day will run. I belong to group B out of three groups, and each group has two librarians to guide and take care of us.
My first reading will be at table number 16 and right now, I have no idea what to say if my readers do not ask me something.
But when the other books can do it, then so can I. I remember that I have been trained carefully and that my content is clear and my chapters are sorted out. I am prepared for the role of an open book. I want to try and help challenge prejudices about journalists.
And now it is time, together with the other books, our librarians lead us into the big conference room at Hotel Nyborg Strand, to meet my first readers.
"Hi. My name is Lene."
Was my opening line, while I politely shook hands with everyone at the table.
"I became a journalist because I want to make the world a better place," I said and explained a little about my background. And then I quickly had to add that it was not always the result".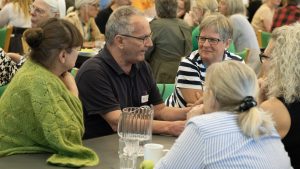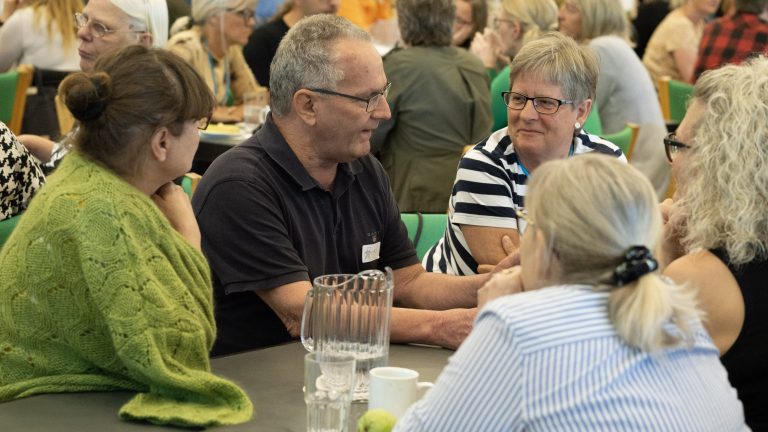 "Can journalists keep their own personal opinions out of their stories?," one reader asked, after I had talked about myself for what felt like a while now. Something uncommon for a journalist.
"It is virtually impossible to completely avoid," I answered, explaining how we should always aim to be neutral and that we are not always able to.
I also mention how nervous I really am.
"It always helps to say it out loud," says one of my readers.
"You're fine," says another.
Two of my readers share that they had actually agreed to go home early from the conference, but when they heard what the Human Library was all about, they decided to stay and take part in the program.
"It is super exciting to be allowed to talk to you and some of the other books," one of them says.
I am touched that they think I – and all the other books – are worth hanging around for on this beautiful and sunny Saturday.
After half an hour the reading comes to an end and we have to change tables. My readers at the next table are a little baffled when they learn that I'm a journalist.
"But I don't mind journalists," one says. "You're alright."
Easier than wearing a Niqab
The book published just before me was transgender. He probably had to answer more critical questions and is probably more interesting to read than a journalist, I hear myself thinking. In my group, readers could also read the girl in the Niqab. She gets a lot of critical questions and some negative comments – especially at one table, she shared at the evaluation after the event. It is easier to be a journalist than to wear the Niqab in public. But journalists have much more power and can really do quite a lot of harm, I think. There are obviously hierarchies of prejudice in society. Books with content that carry a strong stigma and more light books, like my occupational topic. I understand that I'm not in the heavy end and I get a bad taste in my mouth just to think the thought. So why does a Niqab bring such strong emotions into play?
I did not get a lot of critical questions or comments.
"Would you like to work for a tabloid media," one asks.
Another is really tired of the same, always writing about two things: dieting and tragedies.
A third said that she thought some politicians where getting a very poor treatment from the media during the recent elections to the Danish parliament.
At the third table I am received by a reader who exclaims enthusiastically:
"I just told the others here that the media are not good enough at doing their job and that they distort things. Then is it really fortunate that you come along right now, "she says and wants to know more about why we covered the parliamentary election in the way we did.
She also asked me what my best interview was about. I had to think for a very long time only to realise that my best interview was not really an interview, but a conversation I had with a stranger recently.
The three readings ended only too quickly.
Standing ovations
Human Library standing ovations from HK members.I got tears in my eyes again when the founder of the Human Library, calls us all up on the stage. All of our readers then stand up and the ovations are many and loud. None of us had ever tried that before.
Afterwards, the books evaluate the day's experience in the three groups.
"I had three good readings," many said. And they are proud to have participated in such a big event.
"We are here not only for the sake of our readers. We are also here for our own sake. To experience how others look at us, to better understand".
That's how I feel as well. We learn from their questions to us, and we get our own knowledge of them tested. And maybe – after a few hours together – we move a little closer together to allow each other to be yourself: to be human with all that it entails.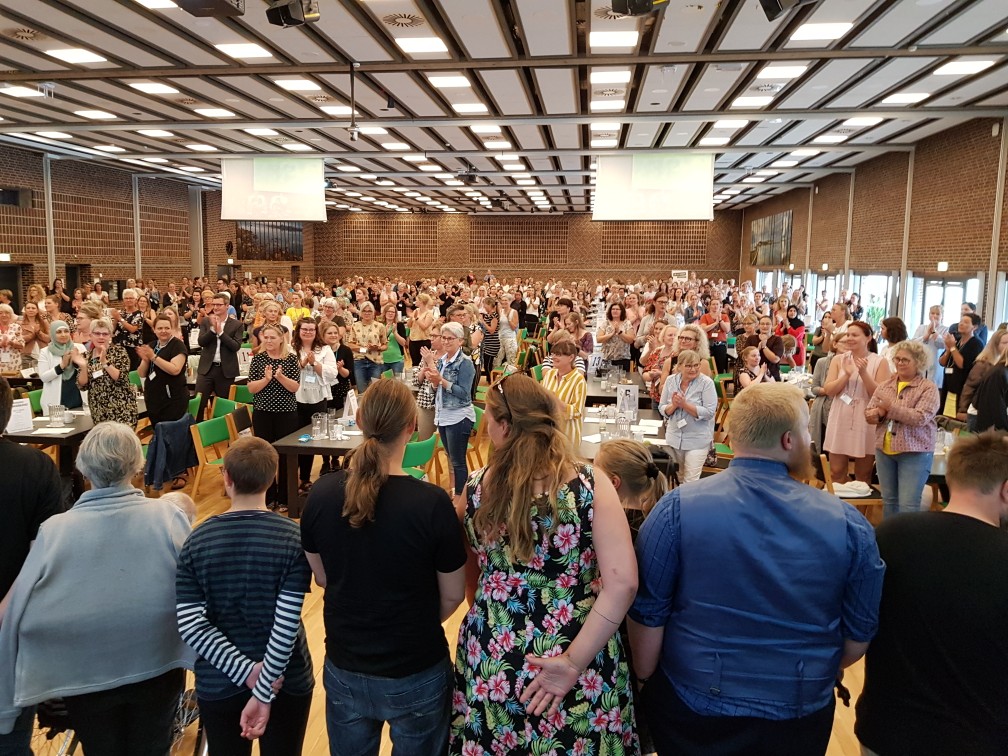 Facts:
Books from the Human Library Organizations book depots in Copenhagen, Aarhus, Odense and Esbjerg were published at Hotel Nyborg Strand, as part of the Danish Labour Union HKs Conference for their Dental Clinic Assistants members in municipal and regional dental care. 70 books were published and over 400 readers attended the conference. A book depot is a local chapter of the Human Library full of books and librarians that host events in schools, libraries, universities, conferences and festivals to name a few.