Book of the Month – Amputee
"An otherwise very competent doctor at Rigshospitalet told me that I shouldn't expect to ever be walking again. I don't know whether that was reverse psychology, but it worked because it made me think: 'Well, that's not for him to decide.'"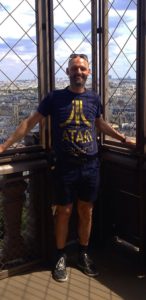 We are sitting inside the Café of Send Flere Krydderier (Send More Spices) – a cosy little haven embraced by the community centre, Union, in the middle of Nørrebro in Copenhagen. The name of this place may seem a tad contradictory, for while we're sitting there, a sublime scent of curry, garam masala, and coriander is weaved into the smooth notes coming from the Malian singer Rokai Traoré who's playing on the speakers in the background. But maybe that's exactly where the Café got its name from – because its food always includes so many lovely spices.
Filip and I have sat ourselves in one end of the room with a cup of coffee in our hands. We are meeting to discuss his life and his role as a Book in the Human Library. He's 46 and started publishing as an open Book in 2020 with the title "Amputee" after hearing about the organisation through a friend. He has been a volunteer ever since. As with many Human Library Books, I quickly discovered that you should never judge a book by its cover since Filip's story entails much more than just his amputated legs.
At 19 years old he left Jehovah's Witnesses due to the fact that he is gay, and he started living alone in Copenhagen. What's more is that he underwent a malignant cancer disease in the first half of 2020, which included momentary death, and eventually resulted in the loss of both his legs.
"From an early point in life I've been used to people questioning who I am. So, ever since I was young, I've had to make tough decisions about myself and my life."
Filip, a man who's always in possession of a wink and a smile, is interested in talking about everything under the sun. He grew up a Jehovah's Witness with his family in Jutland, a chapter of his life that's helped shape him into the person that he is today. Among other things, he uses his upbringing as a reason why he from an early age, was conscious of what he wanted in life. But this was also the reason for his ostracisation from his family, as Jehovah's Witnesses do not allow homosexuality in their religion.
It was a heavy choice to take, but at the same time, also a choice where he knew the consequences and felt it was a necessary action. It may sound cold and cynical, as Filip says, but in the end, it was a decision about whether he should live someone else's life or his own, and when putting it like that it wasn't a difficult decision for him to make.
"There are many opportunities for people with a disability if you actually do a bit of research. Do you know how many places where I can gain free entrance in Copenhagen? Most, if not all, museums and the Zoo only cost me a penny."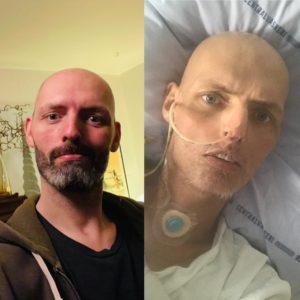 At the start of 2020, Filip was diagnosed with Non-Hodgkin lymphoma at the age of 43. From there, things began to escalate quickly. Filip started on an arduous journey with chemotherapy, and his doctor told him that he would either die from the cancer or the chemo. And that is literally what happened. Filip went into cardiac arrest and was in a coma for six weeks. It was while in a coma that he developed gangrene in his feet because his body couldn't provide enough oxygen.
On the 13th of August 2020, Filip was officially declared cancer free, but in the process, his legs were amputated from his feet to above his knees. It was one of the toughest chapters of his life, but at the same time, he had a steadfast resolution about being able to live his life to the fullest afterwards – despite having lost his legs.
Throughout the course of his rehabilitation, that resolution persisted. He believes that his resolve comes from his time as a Jehovah's Witness. From an early age, he experienced the necessity of taking control of his own life, and this has followed him ever since.
Today, he's using prosthetics for his legs, and he is enjoying the many opportunities available for disabled people in Copenhagen. Despite a supportive effort from the local municipality, Filip rarely needed much of their help, and he does view himself lucky as he made it through all the adversity without giving up.
"I was in a place where I didn't know whether I would be judged and met with prejudice or not."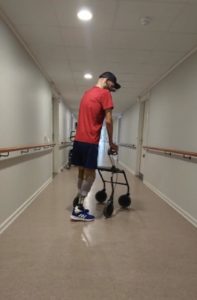 Filip started volunteering as a Book at the Human Library after the cancer treatment because one of his friends was a Book already. Thankfully, it's a rare occurrence that Filip is met with prejudice in public – most of the time it's children who point and stare. However, as he explains himself, the worst part after the amputation was the uncertainty that followed him around about what would happen and if he could ever live a normal life again.
Uncertainty begets insecurity, Filip says. And, perhaps, it's this uncertainty that many people without a physical disability have. The uncertainty of what life you can lead with a physical disability can quickly turn into an insecurity if you aren't aware of the many offers and support available from your local municipality and not-for-profit organisations.
Filip states the therapeutic aspect as one of the main instigators as to why he joined the Human Library. Instead of sitting at home and losing touch with reality, he needed to 'touch grass' and be able to talk to people – something that also helped him talk about the entire process of his cancer and amputation in its entirety.
However, today the aspects have changed a bit. Instead of being a therapeutic outlet for himself, he's discovered how much value his experiences are giving other people as well. People are often very moved by his journey, and, as Filip states, when you're affected by someone's life, you start to think.
My coffee went cold a while ago as a consequence of the intense and emotional talk with Filip, and Rokai Traoré's mellow song is coming to an end. I thank Filip for his courage and openness, and while we leave the café, I reflect again on my own prejudice around physical disabilities. Turns out Filip's theory was true – I was affected by his story, and it surely made me think.
Visit the Human Library Reading Garden in Copenhagen on a Sunday to get a chance to read Filip.